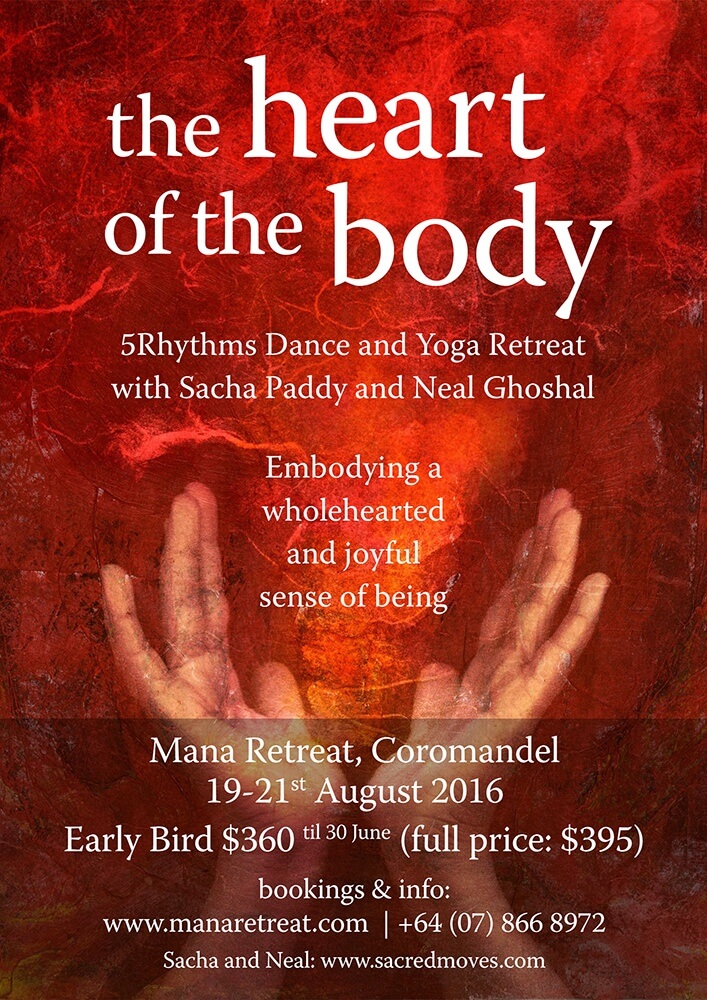 5Rhythms Dance and Yoga Retreat
with Sacha Paddy and Neal Ghoshal
Mana Retreat, Coromandel
19-21st August 2016
$360 Early Bird til 30 June (after $395)
bookings & info:
www.manaretreat.com
+64 (07) 866 8972
Sacha and Neal are delighted to be offering this heartful weekend at stunning Mana Retreat.
Guided by the practices of 5Rhythms Dance, mindful Yoga and meditation, we reconnect with the gifts of our body, coming home to a wholehearted and joyful sense of being.
No previous experience of dance or Yoga is necessary. You are encouraged to move and practice at your own level and within a safe and inviting space.
Sacha Paddy is a certified teacher of Gabrielle Roth's 5Rhythms Dance and loves to share this simple, vibrant path to embodied freedom. Read More >>
Neal Ghoshal is a passionate teacher of Yoga which he sees as a path guiding us home to a place of peace and relaxed openness in each moment. Read More >>
More Information
If you wish to know more about this retreat and what we'll be doing, or you have any questions, please do not hesitate to contact us on 021 146 7699 or 09 32 7650, or email us on info@sacredmoves.com