Love – Heartbeat level workshop
5Rhythms workshop with Andrew Holmes
Auckland Oct 25th-27th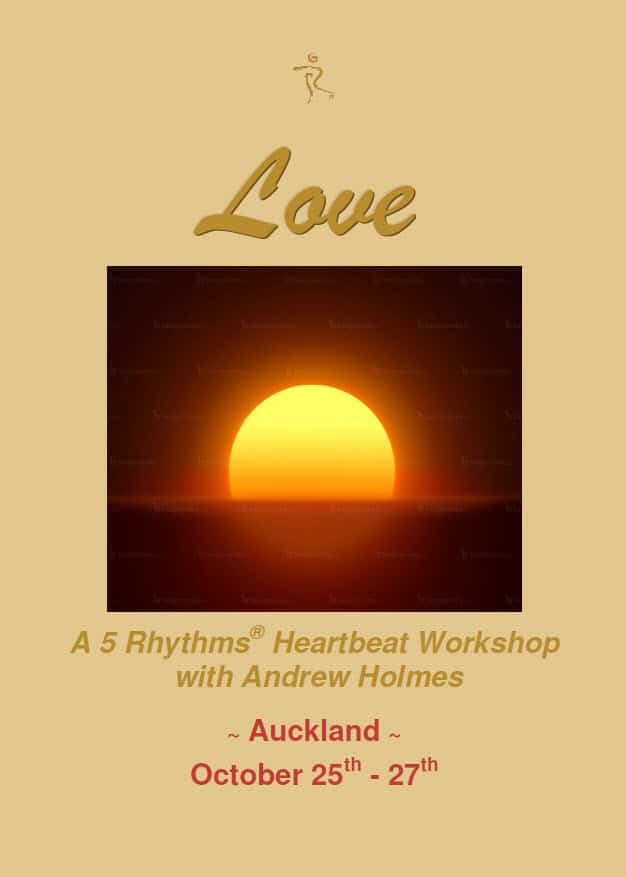 Love is nourishing, warm, and healing,
And expansive, powerful, and unifying.
We could all do with some more,
And we could all give some more to others.
We can get attached to the idea that it's somehow exclusive –
We have to find the right person to love or be loved by –
Or conditional – it's only possible if we're lucky, or good.
But really it's what our hearts are made for,
And maybe even the nature of life itself.

This weekend we'll dance with some of the feelings that may have taught us to keep our hearts defended. Through the aliveness of the practice, we'll explore opening to love – for ourselves, for another, for whoever we're with.. Finding in the flow of this energy a deeper sense of connection with life, our true nature, and ultimately Spirit.
Andrew has been teaching the 5 Rhythms for more than twenty years, and is one of the most respected teachers in Europe. He studied extensively with Gabrielle Roth, and runs workshops in many countries. He lives in England with his partner Sharon.
"The depth and simplicity of Andrew's teaching is stunning"
Schedule – Fri 25
th
Oct
7 – 9.30pm.   
Sat 26
th
11am – 6pm.
Sun 27
th
11am – 5pm
Venue – HeartSong Dance Temple, 2 Te Aute Ridge Road, Waitakere, Auckland 0781
Cost:    $295    ($250  if booked by Sep 30th with a non-refundable $150 deposit) 
To book or with any questions: please contact Joy  at  joygreenlake@yahoo.co.uk  or on  (09) 810 8084