Sweet Surrender
a 5Rhythms Dance & Yoga Retreat
with Christina Demmler and Neal Ghoshal
August 10-12 at Mana Retreat, Coromandel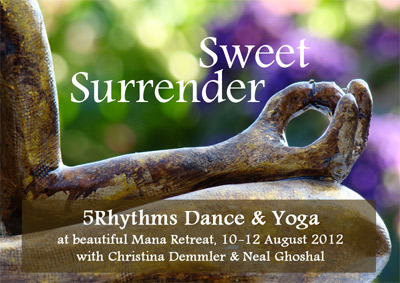 A delicious weekend to soften body, heart and soul with healing movement and ecstatic dance, to deepen connection with self and others with openness and gratitude for all that life has to offer.
We will follow the map of the 5Rhythms to find the place of  surrender and practice gentle Yoga asanas to teach our bodies the art of letting go revealing our relaxed and joyful essence.
By coming together as a group in a special space and time we create a strong energy field, to recharge our own human batteries and fill up the containers of positive vibration, trust, love and healing. We invite you to come and join us for a yummy chunk of divine conspiracy at Mana Retreat, the most beautiful retreat centre in New Zealand.
No previous experience of dance or yoga is necessary, simply a willingness to dive into the experience.
When: Friday August 10, 6pm til Sunday August 12, 3pm
Cost: $NZ 395  includes accommodation and all delicious vegetarian meals
To book your place please contact Mana Retreat:
www.manaretreat.com ; be@manaretreat.com ; 07 866 8972
For more information about this retreat:
Please contact Christina on pixiegrooves@gmail.com
About Christina Demmler
Christina has been involved with 5Rhythms Dance for over 20 years. She trained with Gabrielle Roth in the USA and became a teacher in 1994. Since then she has taught 5Rhythms Dance in New Zealand, Australia and Europe. Her interest in body, movement and healing expression is backed by a diploma in massage (Germany), Neurostructural Integration Technique (Australia), and post. grad.cert. Expressive Therapies (New Zealand). Find out more here.
About the yoga with Neal Ghoshal
Neal has been practicing Yoga for thirteen years and teaching since 2003. He sees Yoga as a map showing us the way to return home to a place of peace and a relaxed heart-centred openness in each moment. Neal's teaching focuses on refining natural movement and alignment principles and learning to embody these principles in a way that takes our spiritual practice into our everyday lives. He is a Senior Associate Teacher with world renown teacher Donna Farhi and currently co-teaches with Donna on her Advanced Teacher Training Program.
Neal is also an experienced Holistic and Thai massage therapist and accomplished musician, living and teaching on Waiheke Island, New Zealand. He brings to his classes an open heart and enjoys creating a warm and inviting space in which to learn, play and practice Yoga. Find out more on Neal's website: www.sacredmoves.com